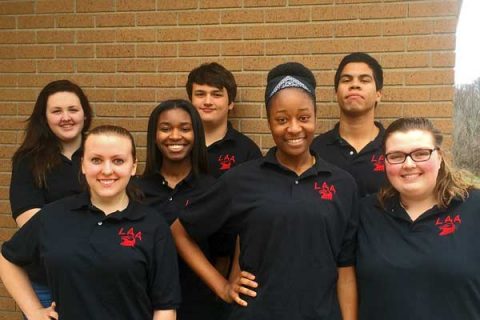 Louisville Adventist Academy offers welcomes students from all walks of life, regardless of race, ethnicity, or religious affiliation.
REGISTRATION
We are now enrolling students for the 2018-2019 school year. Please contact the school office to request more information on the registration process and see the sections below for forms to be completed.
NEW STUDENTS
New students must remit their Registration Fee, Book Fee, and Lab Fee along with prior school transcript(s) at the time of registration. In addition, the following documents are required for the 2017-2018 school year:
*​New students may be tested to ascertain appropriate academic placement.
Also, please review the LAA Student Handbook 2018-2019 for details about our most current policies and procedures.
RETURNING STUDENTS
Returning students must remit their Registration Fee, Book Fee, and Lab Fee, and their account from the previous year must be paid in full at the time of registration. Any exception to this rule must be presented in writing to the School Board before registration for approval. No exceptions will be made for accounts 90 days or more in arrears. Also, returning students must complete updated versions of the following forms for the 2018-2019 school year:
PAYMENT OF ACCOUNTS
Tuition is established each year by the School Board and divided into 10-12 monthly payments, depending on the start date of payments. Tuition payments will be billed monthly and are due on the 20th of each month, beginning June, July or August 20 and ending May 20. Registration and book fees are combined with tuition into regularly monthly payments. Payments of student accounts can be made at the school office during regular school hours, dropped off in the locked black box in the school parking lot, mailed to the school's address, or paid online through AdventistSchoolPay. Cash, personal checks, money orders, credit cards, debit cards, and ACH (electronic checks) are accepted. Make all checks payable to Louisville Adventist Academy. A $25 fee will be assessed for all returned checks.
DISCOUNTS FOR ADVANCE PAYMENT
A 5% discount is available for those paying the full year's tuition in advance. A 2% discount is available for those paying a full semester's tuition in advance.
FINANCIAL AID
LAA offers a financial aid for families with a need through the Chris Juhl Scholarship Fund (formerly Helping Hand Scholarship Fund). The program is set up to help families who need assistance paying their bills and make our school available to all qualified students, regardless of income. Requests for funding should be made prior to registration. Please apply here online: https://online.factsmgt.com/signin/4K90G
GRIGGS UNIVERSITY
Students in 11th and 12th grades take several of their courses through Griggs University, a distance learning institution. Since LAA is required to keep current on its payment to Griggs, a student taking Griggs courses will not be able to access these courses if the student's tuition bill is more than 30 days delinquent.